Who doesn't like a fruit leather (a.k.a. fruit roll-up)? They're a huge favorite at our house. But if I am being 100% honest I can't stand that the first ingredient in them is HFCS (high fructose corn syrup)....in fact it really ticks me off (ahhhh- Jamie will wanna slap me if I go to "crunchy mama" on you so I will leave it at that).
I did a great deal of searching on the web to find a recipe that actually works AND tastes good and I think I may have a keeper. Want to make your own fruit leather? It's super easy!
Here is what you need:
4 cups fruit of your choice (we love raspberries, strawberries and even mixed berries)
1/2 cup water
2-3 Tablespoons sugar (this is 100% optional, when the fruit is sweet and in season I don't even add it)
Pour your puree into a sauce pan and bring to a boil (to cook the fruit a little). Simmer for about 10 minutes (not any longer or you will destroy the healthy vitamin A and C naturally found in the fruit).
Lightly spray a jelly roll (or cookie sheet) pan with oil and pour warmed fruit puree onto it.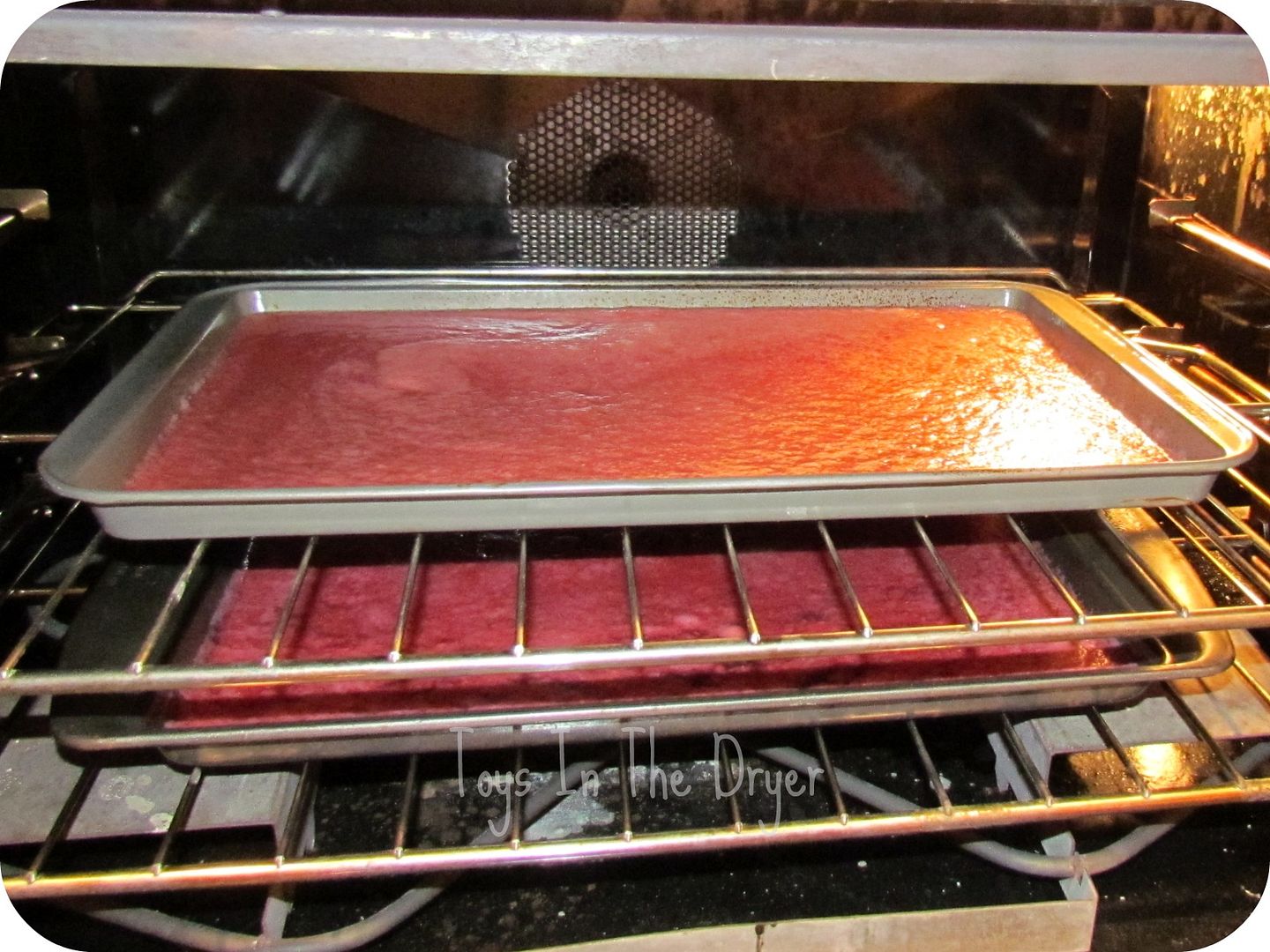 Bake in your oven for 8 (EIGHT) hours at 140 (usually this is the lowest temperature setting). Do not bake at any higher of a temperature or you will actually cook the fruit rather than dehydrate it. This might not be the best choice but I usually make it all up right before bed and pop it into the oven at 10pm and when I get up at 6am I pull it out, you need to do what is best for you.
Peel the dried fruit from the pan and cut with a scissors to the desired shape (or you can be really snazzy and use metal cookie cutters and make fun shapes for
yourself
your kids. Other flavors we've tried- pumpkin puree, blueberry, blackberry, strawberry banana, strawberry with coconut and strawberry kiwi.