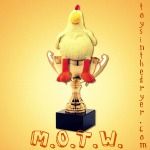 To learn more about Mom Of The Week click the M.O.T.W link above.
We didn't have any responses to last weeks' introduction post (it was only our first week and most people don't know us very well yet) so we'll go ahead and share another one of our Mom Of The Week stories...
This story is actually a "I just about died" moment from one of our moms!
I was about 4 years old and one day I asked my Grandpa why he had so many cracks (wrinkles) in his face. My Grandpa told me it was because he was old. Old people get wrinkles. A few days later I was at the grocery store with my mom. I saw an older woman in front of us in the check-out line. I looked at my mom and said, "Mom look at that lady. She must be REALLY old because she has LOTS of cracks in her face!" My mom just about died!
Can you guess which one of us said that?
Do you have Mom Of The Week story? Share it in the comments below for a chance to be featured on our blog!