Mom Of The Week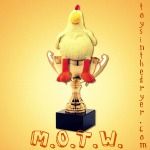 Do you want to be our M.O.T.W. (Mom of the Week)? You don't have to be a mom to enter, you can be a Mr. Mom, a nanny or a teacher too! Each week we will read through our comments and community posts and choose a "winner" to claim their prize of the honorary M.O.T.W. Your prize isn't anything fancy it's simply, the right to post the badge above on your blog or website and be featured on our blog as the M.O.T.W.

How do I enter to be M.O.T.W.? Share with us a mommy brain story, an I just about died, a conversation you had with your kiddo, or confess something. The only rule here is that you cannot "flame" someone for their post.


Mommy brain story example:
I went to Target to pick up three things: milk, toilet paper, and band-aids. I forgot the band-aids, left the toilet paper on the bottom of the cart and came home with just the milk.

I just about died example:
While at the doctor for his check up, I explained to my son that it was OK for the doctor to look at his "private parts." He then looked at the doctor and said "can I see yours?"


(True story from Lindsi. I still laugh when I think about this.)



Conversation example:
Daddy- "M", are you a ballerina?"
M(3yrs old)- "Nope, not yet."
Daddy- "Oh will you be one after Ballet class?"