This is a Sponsored post written by me on behalf of No nonsense for SocialSpark. All opinions are 100% mine.
Ok Jamie, what do tights and leggings have to do with ideas for living in the moment with your kids?  They don't (unless you're dressing up with them).  However, since the majority of our readers are moms, I thought I'd take up this opportunity to review No nonsense tights and leggings because we are more than moms, we are women and every now and then, we need to feel good about ourselves!
I received a pair of burgandy tights and a pair of red leggings in the mail.  I immediately thought of a dress to pair with the tights but red leggings?  What am I going to do with those?  I am a totally neutral type of girl!  Plus, leggings scare me!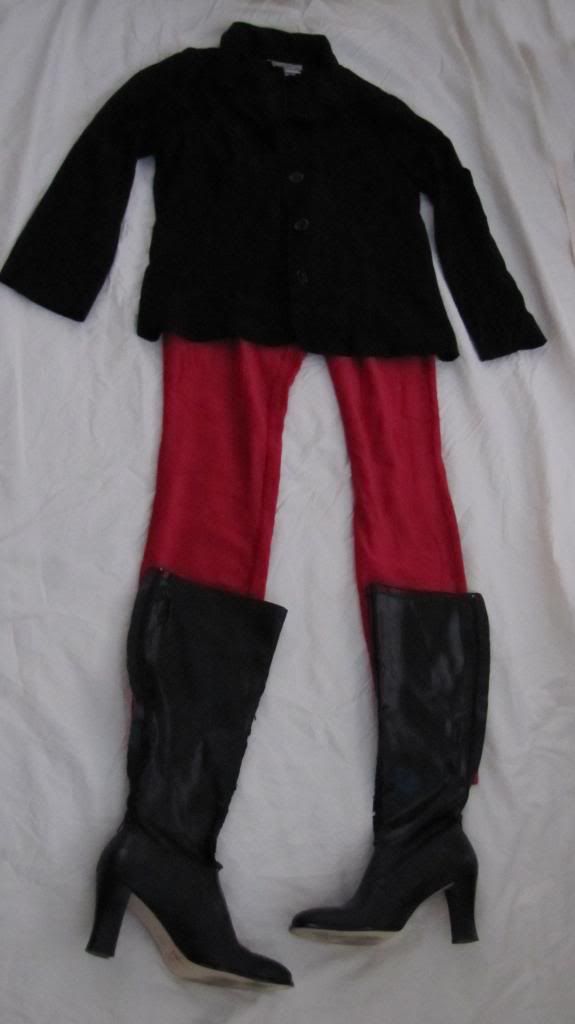 I dug through my closet and found a black blazer and my black boots.  Yipee!  It actually would have been a super cute outfit on me if I had a shirt that matches red to go under the blazer and if the blazer had been just a little longer.  The leggings were super comfy and proved to me that with the right top, they don't actually look that bad!
As far as the tights go...I've had this dress for a while now and have been looking for the right bottoms to pair with it because I think it's just a hair too short (though it doesn't look like it in the photos--it creeps up).  
These tights were perfect!  Not only were they very comfy, they felt durable (like I wasn't going to rip a hole in them as soon as I put them on), added a little more color to my paleness, and they made my legs look slimmer!!  Don't you agree?
No nonsense tights and leggings are affordable and can be found at many food and drug store as well as at mass retail stores.  You can also find (and keep in touch with No nonsense on Facebook and Twitter!  
Did you know that No nonsense it partnering with Jill Martin?  She's an an Emmy Award-winning TV personality and co-author of the New York Times bestselling style guide "I Have Nothing to Wear!" She is also the New York Correspondent for Access Hollywood.  Jill will be helping to educate women on how to wear No nonsense tights and leggings!  I could definitely use some tips from her!
I dare you to try No nonsense tights and leggings for yourself and see how a new outfit can make you feel like a new person!