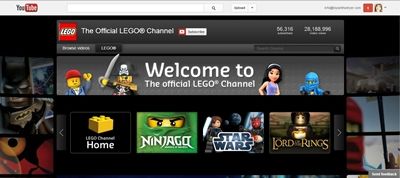 I loved LEGOS® growing up. This past Christmas my girls got a ton of LEGO® Friends and are finally sharing in my love for the tiny little blocks. My girls and I also love watching videos on YouTube. It's fun to see what you can discover on it (with supervision from mom of course!). LEGO® now combines two of our favorite things with their
Official LEGO® Channel on YouTube
!
There are over 500 videos on the Official LEGO® Channel with more being added daily. What's best is that they are all kid-friendly so you can feel ok leaving your children to surf the channel while you look away for a few minutes (i.e. get the dishes or laundry done, or if you're really lucky, close your eyes for a 15 minute nap!).
We could have spent hours building a playlist off of this channel. Nutty loved the LEGO® Friends Music Video, Tottie loved any of the LEGO® Monster Fighters videos (yes, she's my little monster lover), and I liked the short little LEGO® City clips. We all liked the videos that fast forwarded people building large things from the tiny bricks. Here's the beginning of what could be a very long playlist for us!:
To make your own playlist from The Official LEGO® Lego Channel follow these steps:
Visit Youtube.com/LEGO and watch one of your favorite videos
Click "Video Options"
Select "Add To Playlist"
Sign-In using your YouTube Login
Add your selected video to an existing playlist or create a new one
There is a lot of content on web; creating a playlist on the Official LEGO® Channel is a great way to ensure your kids are entertained and watching videos you can feel good about.
Visit the Official LEGO® Channel to build your own playlist to watch with your kids and then reply below for a chance to win one (1) prize of $1,000 to buy your family's favorite LEGO® products!