Today, Toys In The Dryer is excited to bring you a guest post from Becky of
Your Modern Family
:
With four kids ages six and under, I am always looking for a great activity to do with them. I taught elementary school before our oldest son was born and I know how every thing that you do with your children will teach them. Let them explore and learn and you will be amazed by them! Today we will learn how to make paint with kool-aid.
This is a fun, easy activity to do with your children! It makes your house smell great and it is so much fun to do with your kids. It is a wonderful activity for creativity and working on fine motor skills. Add in a great story (read about rainbows and paint one) and you have just done a great learning lesson with your kids!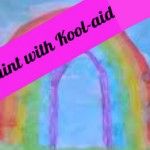 Make paint with kool-aid:
I bought a few packets of the off-brand (cheapest you can find) Kool-aid mix.
To make this, you will want to start by getting out as many bowls as you have kids (or if you are separating by color, get out as many bowls as you have colors of Kool-aid. (Example: if you have green, blue and red, you could do three bowls- one for each color)
I have done both. Some days we do a colorful picture with many different colors and other times, I just use one packet and split the one color between the kids. They just love the creation of it all and they really are happy either way. Its a win-win.


PREPARE THE AREA:
Get on your aprons and get out your 'craft' tablecloth (see how to organize art supplies for kids). I like to let our kids paint with our easel, so I lay the tablecloth on the ground after we are done mixing it up on the table. If you want them to paint on paper on the table- just lay it down once and you are done.
So, if you are using just one packet:
Pour a little bit into each bowl with just a touch of water
(a tablespoon or two). The more you use, the runnier it will be.
Mix it up until the Kool-aid is dissolved.
Give your kids a paintbrush and let them go to town!
(Notice the tablecloth on the floor in the first photo to protect the wood from any "paint" spills.
The Kool-aid is scented so it makes your house smell great!
Remember- this can stain, so wear your aprons!!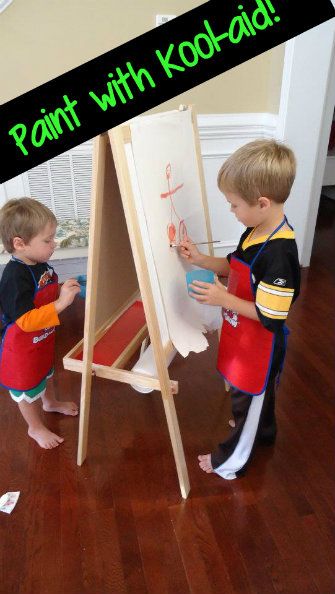 We have been doing this for years- so here is an older picture of our boys painting, too. It is quite possibly their favorite activity!
Becky blogs about raising your kids & running your household (while staying within your budget!) at
Your Modern Family
. She was an elementary teacher until her oldest son was born. She became a (one morning a week) play therapist and Stay At Home Mom to four kids. She shares her tips on raising kids, organizing the home, and helping you to save money (to make being a Stay-at-home-Mom or working Mom easier!)