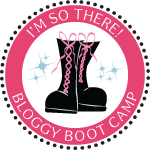 As Lindsi said on
Friday
, I was away this past weekend for a blogging conference--Bloggy Bootcamp Chicago to be exact. What is Bloggy Bootcamp? It is a one day blog and social media conference put on by
The SITS Girls
and hosted in 4 major cities around the U.S each year. This year they added a 5th stop in Chicago for their first ever 2 day Brand Edition. The Chicago Brand Edition was focused on the
business
of blogging.
Around 150 women gathered together to learn how to be better bloggers, to network, to learn how to enhance their social media presence, and the biggest reason, to learn how to work with companies and brands to earn more income from blogging. I can not begin to tell you how much I learned from Bloggy Bootcamp Chicago! I have 20 pages of notes and too many photos of slides to count! I'm still wrapping my head around all the stuff I want to do for our blog now!
My trip, however, started with a little fun. The conference did not start until 2:00 on Friday but it was cheaper to get to Chicago on Thursday night (so proud of myself for taking the Mega Bus all alone!). Soooo...I headed out with Sarah from
The Will To See
, Jen from
Life With Levi
, and Amy from
Grinning Cheek to Cheek
(in that order in the photo on the left) to explore the city! Our two biggest stops were Millenium Park and Navy Pier.
And yes, we may have gotten slightly lost on our walk to Navy Pier...thank God for nice taxi drivers!!
The sign below just begged for a photo opp so Jen and I climbed on up!
The conference on Friday focused on what brands and bloggers want from each other. Relationships was the key thing. However, I did go ahead and change our "about me/us" pages based on what I learned!
Friday night was spent with some awesome girls celebrating Jen's first annual 29th birthday!
So much fun to meet other fun bloggers who "get it"!
Saturday was overwhelming with so much information! I now have schedules to make, websites to check out, social networks to join, books to read, and so much more! It's gonna take me more than a month to catch up to all I have written down! That's ok, Toys In The Dryer will be a better blog because of it! Be on the look out for some very minor changes around here!
Finally, Saturday night was spent with some other awesome bloggers eating the famous Giordanos Pizza. The calories were well worth it!!
If you have not been to a blogging conference (especially a Bloggy Bootcamp) I highly suggest you attend one! It's an awesome way to network and spend some time with people to understand your excitement and frustrations about blogging. I can't wait for the next one!
I can so say I'm a :