I'm sure you've seen a bunch of those "Caught Ya Being Good" ideas all over
Pinterest
. If you haven't,
here
and
here
are a few of them. I LOVE the idea of "Caught Ya Being Good", and while I thought the jars were cute, I wanted make my own version of it.
My variation is more like "Wanted For Good Behavior" and has a kinda western theme. Yes, I know I have girls but I just couldn't resist a wanted poster so I had to tie in the rest.
The principle is still the same--reward my girls for good behavior. I'm just so sick of yelling at them all the time that I thought I should start acknowledging when they are good. Now when I catch them being good (without me asking) they get a sheriff's certificate. After they've gotten 10 certificates, they get a reward of their choosing whether it be $5.00 for their piggy bank, a date with mom or dad, or an extra treat before bed.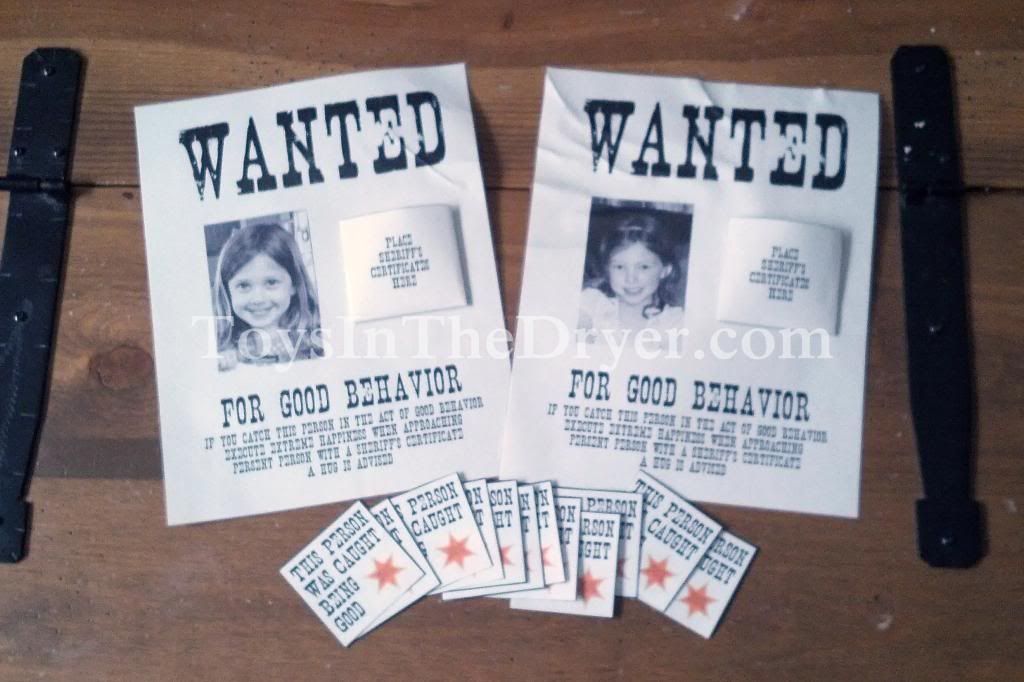 These certificates, however, are not easy to earn. The girls only get them when they are CAUGHT being good, not when they are good after they have been asked to be. They get them when they are nice to each other without being told to be, they get them when they play nicely by themselves, they get them for eating dinner without being hounded to eat (yes, it is a battle
every
night to get them to eat!), and they get them for doing chores above and beyond their normal ones. These certificates are as much fun to give as they are to receive!
You can make a Caught You Being Good/Wanted For Good Behavior with these FREE PRINTABLES!!
Click on each of the three parts to download them.
Hints for making your poster:
You can use photo editing software to replace the words "place your child's photo here" with your child's photo before printing, or you can simply print out the poster as is and glue your child's photo to it.
Cut out the pocket (second photo) and fold the flaps to make a pocket for your child to store their sheriff's certificates until they get enough for an award.
I laminated all of my parts to make them last longer. You can do the same or just have them as paper.
Print your poster on off-white or yellowish paper to make it look more authentic (I wish I would have done that!)